ReactGrid
Add spreadsheet-like behavior to your React app
ReactGrid is available in two versions: MIT, which serves the full interface, but is limited in functionality and PRO, which is a fully functional version. You can compare both versions here.
Why is ReactGrid unique?
ReactGrid is written purely in React with reactivity in mind. Rendering happens based on state changes
ReactGrid is fully customizable and extensible. You can literally place any cell type anywhere in the grid
Optimized for touch devices
ReactGrid gives the same experience to you no matter if you work on desktop or mobile devices
ReactGrid is NOT:
Looking for a data grid with Sorting, Filtering, Grouping and Spreadsheet-like edit modes?
Check out these: - Ag-grid - Handsontable - DevExtreme DataGrid - Telerik Kendo UI DataTable
Spreadsheet with formulas
Do you need to display a fully functional spreadsheet in the browser?
Have a look at Telerik Kendo UI Spreadsheet or dhtmlxSpreadsheet which have a toolbar, coordinates and support formulas.
Features Overview
COMMERCIAL USE
SPREADSHEET-LIKE LOOK AND FEEL
FOCUSING CELL
HIGHLIGHTS
STICKY ROWS AND COLUMNS
CUSTOM CELL TEMPLATES
KEYBOARD SHORTCUTS
GROUP ID
COPY/CUT/PASTE
SASS STYLING
VIRTUAL SCROLLING
NATIVE STICKY PANES BEHAVIOUR
I18N OPTIONS
OPTIMIZED FOR TOUCH DEVICES
CROSS-BROWSER SUPPORT
Preview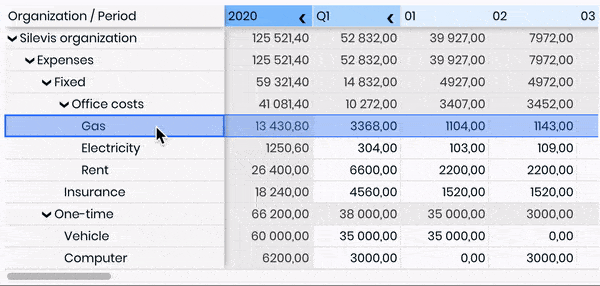 License: MIT/Commercial
Author: Silevis Software
Last update: N/A